Scrimba Blog
works
Table of Contents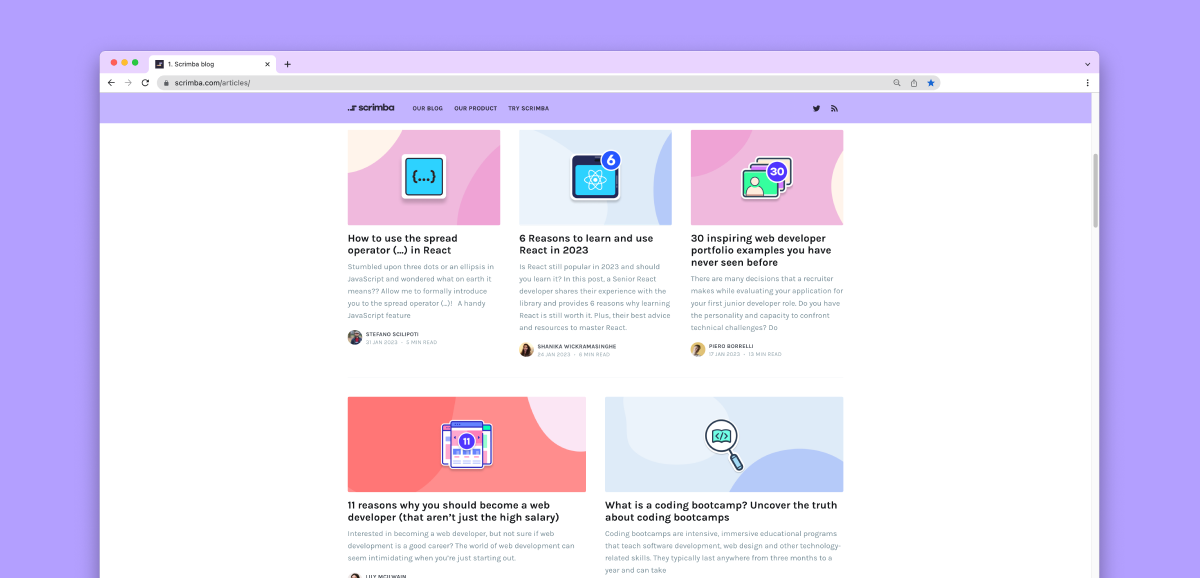 What is Scrimba?
Scrimba (YC S20) is a coding course platform with over 120K monthly active students. It's based on a new video format that makes the screencasts fully interactive for students, and easier to create for teachers.
What is the Scrimba blog?
The Scrimba blog publishes guidance on how to learn to code and get hired as a Junior web developer.
In my role as Content Lead, I launched the blog in June 2022. In the 8 months since, we have published more than 70 best-in-class posts and rank highly for keywords impactful to Scrimba's business. In January 2023, organic traffic grew +80% MoM compared to December 2022.
Key accomplishments & responsibilities
I started the Scrimba blog from scratch in 2022. Here are my key accomplishments to date,
🏆 Hired and enabled a team of talented and motivated SEO writers who are also technical
🏆 Oversaw the publication of 70 SEO optimised posts, enriched with custom illustrations, embedded YouTube videos, and interactive code examples
🏆 Attained top-ranking positions for keywords highly relevant to Scrimba's business. Increased organic traffic 80% MoM
🏆 Developed a content repurposing playbook to repupose long-form posts for social media. Increase traffic to the blog from social by X%
🏆 Collaborated with the design team to establish a distinct and eye-catching brand identity for the Scrimba blog. Adapted a template and launched the SEO-optimised blog
In my role as Content Lead, it's my responsibility to:
Plan the strategic direction of our content efforts to reach thousands of learner developers a month through organic evergreen content
Write posts
Edit posts
Critically and effectively analyse the scope and potential business impact of new posts
Monitor and measure key metrics and evaluate how content is performing, refreshing content when necessary
Syndicate every bit of content on industry-leading publications like Hashnode and dev.to
Carry out technical SEO improvements based on industry trends and updates from Google
Hire, coordinate, and support freelance SEO writers who are also technical. Prooread, edit, and suggest improvements to their work
The business problem
When I joined Scrimba as employee #2 in 2020, in typical startup fashion, I wore multiple hats, including "Community Manager" before bring promoted to Content Lead.
As I helped students, I heard the same questions again and again (and again!):
What programming language should I learn first?
How long will it take?
Should I learn React?
(More recently) Will AI like ChatGPT make programming redundant?!?
Rather than answer every question one on one, I identified Scrimba's unfair advantage: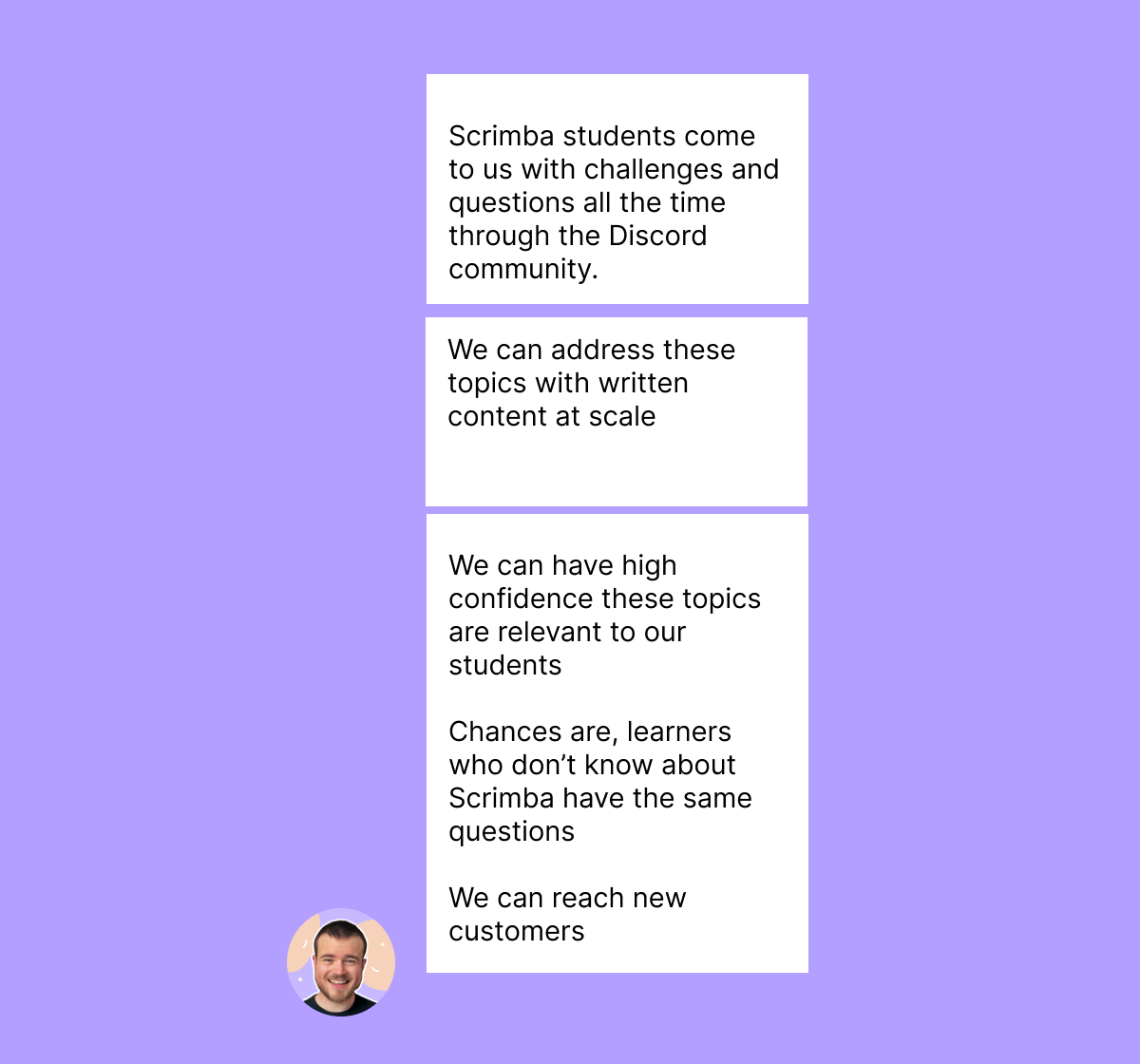 It started with me researching and writing my own posts. Over time, I bought on freelance writers.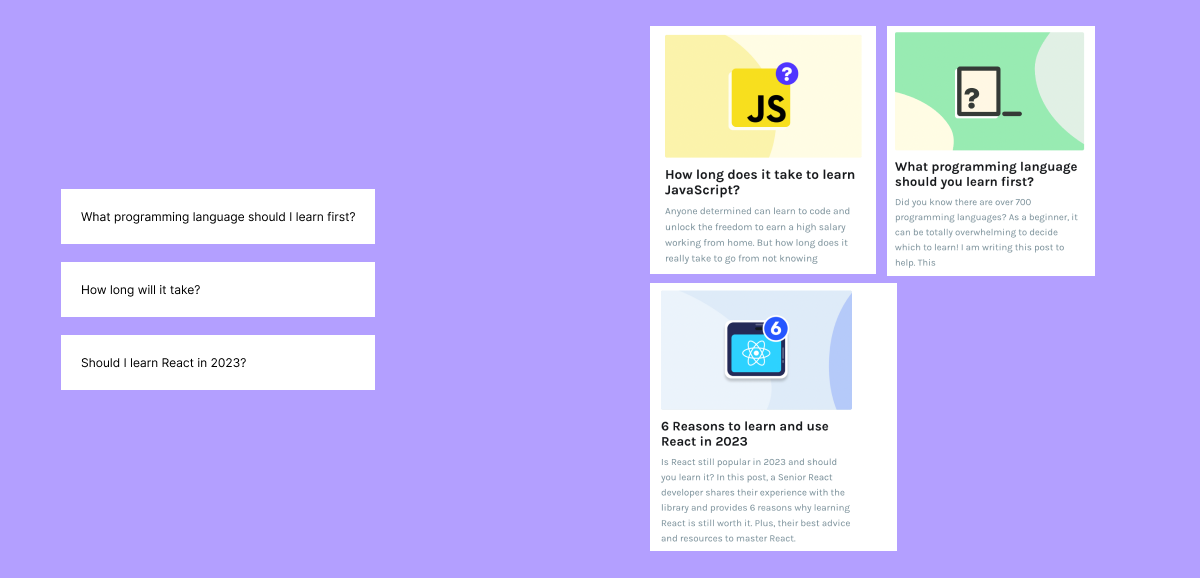 8 months later, we are now ranking for some high-value keywords and climbing at a good pace!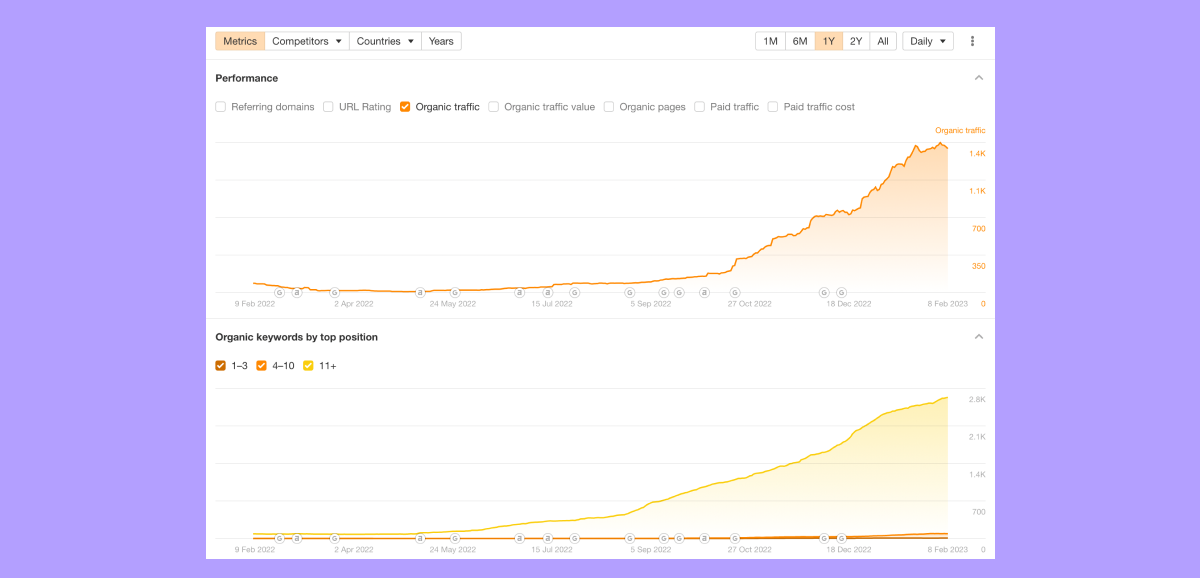 To understand my approach to content strategy, here are the 4 broad steps I took with Scrimba.
Identify topic clusters impactful for the business
Create high-caliber and engaging content
On-page technical SEO optimization
Refresh content as necessary
This page is dedicated to the high-level achievements, but you can read more about How I launched a brand new blog to 80,000 monthly organic visits in 8 months on my marketing blog.
Tools I used
Google Analytics
Ahrefs Keyword research
Answer the Public Keyword research
Ghost CRM
Google Sheets Keyword research
Related reading
How I launched a brand new blog to 80,000 monthly organic visits in 8 months
Cutomise Ghost without any CSS
What I know about hiring freelance writers
8 surprising features of Ahrefs